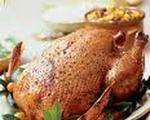 Prep: 25 min
Cook Time: 50 min
Total: 1 hr 15 min
Serving: 10
Easy Turkey Pot Pie served with a green tossed salad will be a frequent request for a quick dinner.
Ingredients
2, 1 pound loaves, frozen bread dough, thawed
1 can cream of chicken soup
1 can cream of mushroom soup
1/4 cup milk
3 cups turkey, cooked and cubed
2 cups frozen mixed vegetables, thawed
1 1/2 cups red potatoes, cooked and cubed
1 cup onion, diced
1/2 teaspoon pepper
Directions
Preheat oven to 350 degrees F. Pinch off 1/4 of dough from first loaf and add to second. Roll out this larger piece of dough on a floured board to fit inside and up edges of a 9 by 13 inch baking pan. Stretch dough to fit pan. Set aside.
Combine remaining ingredients in large bowl. Pour into dough lined pan. Roll out remaining dough on floured board to form top crust. Place dough over turkey filling, pinching edges to seal. Cut slits in top. Bake for 45 to 50 minutes until golden brown and filling bubbles. Let stand 5 minutes before serving.