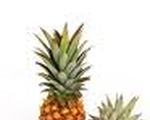 Prep: 20 min
Cook Time: 15 min
Total: 35 min
Serving: 4
Corn syrup is the secret ingredient in Easy Sweet and Sour Pork.
Ingredients
2, 8 ounce cans pineapple chunks in juice
2 tablespoons corn oil
1 green pepper, cut in 1 inch squares
1 onion, cut in thin wedges
1 clove garlic, minced
1 pound boneless pork, cut in thin strips
2 tablespoons cornstarch
1/2 cup dark or light corn syrup
1/4 cup cider vinegar
3 tablespoons soy sauce
2 tablespoons ketchup
Directions
Drain pineapple; reserve juice. In large skillet heat oil over medium-high heat. Add next 3 ingredients; stir fry 2 minutes or until tender-crisp. Remove.
Stir fry pork 1/2 at a time, 3 minutes. Return all pork to skillet.
In bowl stir together pineapple juice and remaining 5 ingredients. Stir into skillet. Add green pepper mixture and pineapple. Stirring constantly, bring to boil over medium heat and boil 1 minute.