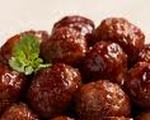 Prep: 1 hr 45 min
Cook Time: 1 hr
Total: 2 hr 45 min
Serving: 12
Easy Swedish Meatballs can be made ahead of time. Don't forget to make mash potatoes.
Ingredients
1/2 cup onion, chopped
3 tablespoons butter
1 egg, beaten
1 cup light cream
1 1/2 cups soft bread crumbs
1/4 cup parsley, finely chopped
1 1/4 teaspoons salt
dash nutmeg
dash ground ginger
dash pepper
1 1/2 pounds ground beef
2 tablespoons flour
1 teaspoon instant beef bouillon granules
1/2 teaspoon instant coffee crystals
Directions
Cook onion in 1 tablespoon of butter until tender.
In a mixing bowl, combine eggs and cream. Stir in cooked onion, bread crumbs, parsley, salt, nutmeg, ginger and pepper. Add ground beef. Mix well. Chill mixture. Shape chilled meat mixture into 1 inch balls.
Brown meatballs, half at a time, in the remaining butter. Remove. Stir flour, bouillon granules and coffee crystals into pan drippings. Add 1 1/4 cups water. Cook and stir until thickened. Add meatballs. Cover and simmer for 30 minutes, basting occasionally.