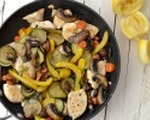 Prep: 10 min
Cook Time: 15 min
Total: 25 min
Serving: Serves 4 people
Sometimes, even with our best intentions, we just don't think we have time to make dinner. However, even on days like that where you barely have a second to think, you can still whip up a healthy, delicious and satisfying dinner for your family. This one-skillet chicken dinner is made in, you guessed it, one skillet, so the clean up is easy and your prep is a cinch. Plus, the rosemarry and lemon flavor compliment the chicken and seasonal vegetables perfectly.
Ingredients
2 large boneless skinless chicken breasts
2 tablespoons olive oil
1 medium onion, chopped
1/2 medium zucchini, thinly sliced
1/2 cup sliced mushrooms
1 large yellow pepper, sliced
2 medium carrots, sliced
Liberal dashes of salt and pepper
1-1/2 tablespoons fresh rosemary
1/4 cup lemon juice
Zest from 1/2 lemon
Directions
Heat the oil in a large, nonstick skillet. Add the onion and cook until translucent, about 3 minutes. Add the chicken and cook until mostly browned, about 4 - 5 minutes.
Add in the zucchini, bell pepper, mushroom and carrots. Add in the salt, pepper and rosemary. Reduce the heat and cook until the vegetables are soft, about 5 minutes. Add the lemon juice and zest and cook about 2 minutes longer.
Serve warm and enjoy!