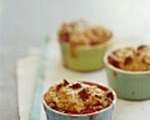 Prep: 5 min
Cook Time: 15 min
Total: 20 min
Serving: Serves 5 people
Easy individual cherry cobblers are great for kids or simply when you're looking for an easy dessert. Use ramekin dishes or custard cups to bake these quick and tasty treats.
Ingredients
1, 21-ounce can cherry pie filling
1, 6-ounce package prepared buttermilk biscuits, separated into 5 pieces
1 tablespoon melted butter
2 teaspoons raw sugar
1/4 teaspoon cinnamon
Directions
Reserve about a quarter-cup of the pie filling, including several cherries for garnish. Preheat your oven to 375 degrees F.
Divide the pie filling evenly among 5, 6-ounce ramekins or oven-safe custard cups. Add a biscuit to the top of each filled ramekin. Brush the melted butter over each biscuit.
Combine the sugar and cinnamon and sprinkle over each ramekin. Place the ramekins on a baking sheet and bake for about 15 minutes, or until the biscuits are golden. When baked, top each biscuit with the reserved pie filling and cherries.