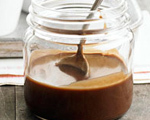 Prep: 10 min
Cook Time: 12 min
Total: 22 min
Serving: Makes 1-1/2 cups
A simple way to dress up any dessert, bowl of ice cream or even fruit cup; this easy hot fudge sauce recipe can be prepared in just 15 minutes.
Ingredients
3/4 cup semisweet chocolate pieces
1/4 cup butter
2/3 cup sugar
1 5-ounce can evaporated milk (2/3 cup)
Directions
Place the chocolate and the butter in a small saucepan over medium heat and stir until both ingredients are melted and thoroughly blended.
Add the sugar and then slowly pour in the evaporated milk, stirring continuously until all of the sugar has completely dissolved.
Bring the mixture to a boil and then reduce the heat to low. Cook for 8 minutes, stirring frequently, and then remove from the heat and cool for about 10 minutes before serving.