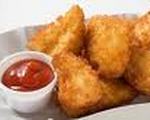 Prep: –
Cook Time: 14 min
Total: 14 min
Serving: 2-4 People
Chicken nuggets get a bad wrap mostly because, when purchased from a fast food restaurant, they are packed with preservatives and fried in oil. This recipe is so simple (only 5 ingredients!) and takes just minutes to prepare.
Ingredients
1 pound ground chicken
1 egg
1/2 teaspoon onion salt
1 1/2 cups Italian breadcrumbs
Nonstick cooking spray
Directions
Preheat oven to 375 degrees F.
In a large bowl, combine chicken and egg. Roll a tablespoon of the chicken mixture into a ball, then press it to about 1/2-inch thick.
Coat gently with breadcrumbs, then transfer to a baking sheet lightly greased with nonstick cooking spray; continue until all chicken has been used.
Spray the tops of the breadcrumb-covered chicken nuggets with a thin layer of cooking spray.
Place cookie sheet in the oven and bake for 12 to 14 minutes, or until the nuggets have cooked all the way through. Serve with your favorite ranch dressing or barbecue sauce.