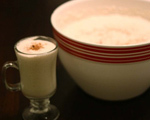 Prep: 10 min
Cook Time: –
Total: 10 min
Serving: 8 servings
With so many eggnog recipes out there it's hard to decide which is best. This version offers a simple yet delicious solution to your holiday beverage quandary.
Ingredients
12 eggs
2 cups powdered sugar
1 teaspoon ground cinnamon
1 teaspoon ground nutmeg
1/2 teaspoon ground allspice
1 cup bourbon
2/3 cup white rum
1/3 cup dark rum
1/3 cup apricot brandy
1/3 cup peach brandy
4 cups whole milk
1 cup heavy cream
Directions
Separate the eggs and place the yolks in one bowl and the whites in another bowl.
Beat the yolks with a handheld mixer until smooth, and then add the sugar, cinnamon, nutmeg and allspice and continue to beat until combined. Stir in the bourbon, rum, apricot brandy, peach brandy, milk and cream and whisk together until thoroughly blended.
Rinse off the mixer's beaters and beat the egg whites to form soft peaks. Carefully fold the egg whites into the yolk mixture and then whisk to combine.
Transfer the eggnog to a punch bowl and serve with grated nutmeg.