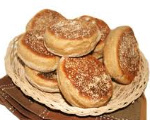 Prep: 30 min
Cook Time: 15 min
Total: 45 min
Serving: 6 muffins
Ingredients
1 1/2 cups prepared biscuit mix
1/2 cup all-purpose flour
1/2 cup milk
2 teaspoons yellow cornmeal
Directions
Mix the flour, milk and biscuit mix until a stiff dough forms.
Cover a board with cloth and sprinkle with biscuit mix. Roll the dough onto the board until coated in biscuit mix, shape into a ball and knead 1 minute.
Roll 1/4 inch thick and use a 3 1/2 inch round cutter dipped in biscuit mix to cut out 6 circles.
Sprinkle a cookie sheet with 1 teaspoon cornmeal. Place the circles on top, 2 inches apart. Sprinkle with an additional 1 teaspoon cornmeal. Cover and allow to stand in a warm place for 15 minutes.
Heat a griddle to 375 degrees Fahrenheit. Cook the muffins on the ungreased griddle until brown (approximately 4-5 minutes per side). Cool on rack.