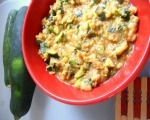 Prep: 15 min
Cook Time: 15 min
Total: 30 min
Serving: Serves 4 people
An Indian favorite, this Easy Chicken Curry is full of flavor and a breeze to make. Makes a perfect meal for entertaining.
Ingredients
1 pound of boneless, skinless chicken breasts
2 tablespoons of curry powder
1/4 teaspoon of cinnamon
2 tablespoons of olive oil
1 medium-sized yellow onion, thinly sliced
2 medium-sized zucchini, thinly sliced
1-1/2 cups of low-sodium chicken broth
1-1/2 cups of heavy cream
1-1/2 teaspoons of kosher salt
1/4 teaspoon black pepper
Cooked whit rice (about 18 ounces or enough for four servings))
1/2 cup of fresh basil leaves, torn
1/4 cup (1 ounce) of almonds, chopped
Directions
Rinse the chicken, pat it dry and then cut it into 1-inch pieces. Place it aside in a bowl.
Sprinkle the chicken with the curry and cinnamon, toss it and set it aside.
Heat 1 tablespoon of oil in a large skillet over medium heat. Add the onion and zucchini, and cook for about 3-5 minutes, or until soft. Transfer the vegetables to a plate.
Heat the remaining oil in the skillet and add the chicken. Cook the chicken until it's browned on all sides (about 5 minutes).
Add the chicken broth to the chicken, along with the cream, salt and pepper. Bring the mixture to a simmer.
Put the onion and zucchini back into the skillet and heat it until the chicken is thoroughly cooked (about 5-7 minutes).
Divide the cooked rice into four serving bowls and top it with the curry. Garnish the bowls with the basil and almonds.