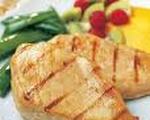 Prep: 30 min
Cook Time: 30 min
Total: 1 hr
Serving: 6
Easy Chicken Cordon Bleu makes a great family meal combining simple and classic ingredients.
Ingredients
12 chicken cutlets, skinned
2 eggs
1/2 cup milk
1/2 teaspoon parsley, chopped fine
salt and pepper to taste
2 cups bread crumbs
12 thinly sliced pieces of ham
12 slices Swiss cheese
2 jars chicken gravy (Heinz homestyle)
24 toothpicks, wood
1/2 cup vegetable oil
Directions
Combine eggs, milk, salt, pepper and parsley in a bowl. Dip cutlets in egg mixture. Lightly dredge both sides in bread crumbs.
Place one slice each of ham and cheese on breaded cutlet and roll, securing with two toothpicks.
Heat vegetable oil and brown rolled cutlets. After browning, place on paper towels to drain.
Place rolled cutlets in a baking pan and pour over chicken gravy.
Bake at 300 degrees F for 30 minutes.