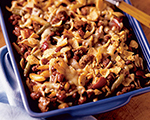 Prep: 10 min
Cook Time: 10 min
Total: 20 min
Serving: 4-6 Servings
This is a great way to get your kids to eat healthy, fiber rich beans. Serve with a dollop of Greek-style plain yogurt on top or low-fat sour cream.
Ingredients
1 16-ounce can nonfat refried beans, preferably spicy
1 15-ounce can no-salt-added pinto beans, rinsed
1/2 cup prepared salsa
2/3 cup shredded sharp Cheddar cheese, divided
4 scallions, sliced
Directions
Prepare the oven broiler and place the oven rack in the top third of the oven.
Place the refried beans, pinto beans, salsa and 1/3 cup cheese in a medium saucepan and cook over medium heat for 8 minutes, stirring frequently.
Transfer the bean mixture to a 2-quart baking dish and sprinkle with the remaining cheese and the scallions.
Place the dish in the oven and cook for 2 minutes or until the cheese has melted and is golden brown. Serve immediately.