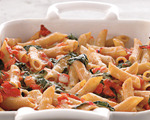 Prep: 15 min
Cook Time: 20 min
Total: 35 min
Serving:
Healthier than classic ziti, this easy baked pasta recipe is just as comforting with a healthy boost of green and red veggies.
Ingredients
2 cups whole-wheat penne
1 tablespoon plus 1 teaspoon olive oil, divided
1 clove garlic, minced
4 cups baby spinach
3 cups diced tomato, divided
1 tablespoons dried oregano (or any herb)
Pinch of salt
3⁄4 cup shredded low- fat cheddar cheese, divided
Directions
Preheat oven to 350 degrees F.
In a large pot of boiling water, cook pasta according to package directions until al dente, about 12 minutes. Rinse penne under cold water and drain; set aside.
Heat 1 tablespoon of the oil in a skillet over medium. Add garlic and stir until fragrant. Add spinach and 2 cups of tomato; cook for 4 minutes, until spinach wilts.
In a medium bowl, combine remaining 1 cup of tomato, herbs, and salt. Transfer the cooked tomato mixture to the bowl and stir well. Add pasta to tomato mixture and combine thoroughly. Stir in 1/2 cup of the cheese.
Grease bottom of baking dish with remaining 1 teaspoon oil. Pour tomato pasta mixture into dish. Bake uncovered for 15 minutes, then remove from oven and sprinkle with remaining 1/4 cup cheese. Bake until cheese melts, about 4 more minutes. Let stand for 5 minutes before serving.