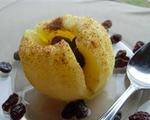 Prep: 10 min
Cook Time: 5 min
Total: 15 min
Serving: 2 Servings
This baked apples recipe uses the microwave and will have your dessert ready in no time. Baked apples make a tasty snack as well.
Ingredients
2 apples
2 tablespoons brown sugar
1/2 teaspoon ground nutmeg
1/2 teaspoon pumpkin pie spice
1/2 teaspoon ground cinnamon
2 teaspoons unsalted butter
Raisins (optional)
Directions
Core the apples leaving the bottoms attached.
In a bowl, mix the brown sugar and spices. Spoon the sugar mixture into the apples where the core was and feel free to add raisins as well. When finished, put a teaspoon of butter on top of each apple. Place the apples in a deep casserole dish and cover.
Microwave for 3-5 minutes or until soft. Let the apples cool for a couple minutes before serving.