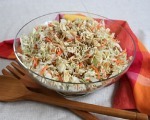 Prep: 5 min
Cook Time: 10 min
Total: 15 min
Serving: Serves 4 people
This Easy Asian Chicken Salad recipe is great for those always on the go. Use pre-packaged ingredients to get this meal made fast. Serve with brown rice.
Ingredients
1, 16-ounce bag of shredded cabbage
1/2 an 8-ounce bag of shredded carrots
1 tablespoon of canola oil or roasted sesame oil
1/3 cup of sesame or Asian-inspired salad dressing
1, 16-ounce package of cooked and diced chicken
1/4 cup of peanuts, chopped
Directions
Using a large skillet over medium-high heat, toss the cabbage and carrots together with the oil. Stir frequently until the vegetables are limp but crunchy (about 3 minutes).
Stir in the salad dressing and the chicken and ensure all the ingredients are heated through.
Spoon the mixture onto a serving platter and garnish with the peanuts before serving.