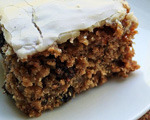 Prep: 15 min
Cook Time: 50 min
Total: 1 hr 5 min
Serving: 8
Moist and tender, Applesauce Cake is filled with raisins and pecans.
Ingredients
1 2/3 cups flour
1 1/3 cups sugar
1/4 teaspoon baking powder
1 teaspoon baking soda
3/4 teaspoon salt
1/4 teaspoon cloves
1/2 teaspoon cinnamon
1/4 teaspoon allspice
1/3 cup shortening
1/3 cup water
1 cup applesauce
1 egg
1/3 cup pecans, chopped
2/3 cup raisins
Directions
Sift into mixing bowl, the flour, sugar, baking powder, baking soda, salt, cloves, cinnamon and allspice. Add shortening, water and applesauce. Mix with electric mixer at low speed until blended. Add egg; beat. Stir in raisins and pecans. Pour into a buttered 9 by 13 inch baking pan.
Bake at 350 degrees F for 45-50 minutes.