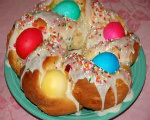 Prep: 30 min
Cook Time: 35 min
Total: 1 hr 5 min
Serving: 1 loaf
Fun Easter Egg bread, great for Easter dinner.
Ingredients
1 (1 pound loaf) frozen white bread dough
1 tablespoon grated orange peel
1/2 teaspoon anise seed
6 eggs
1 tablespoon water
food coloring
vanilla icing
Directions
Thaw the dough according to the instructions.
Flatten the dough, sprinkle with the orange peel and anise seed, work in well.
Divide the dough in half, roll into 24 inch long ropes. Grease a cookie sheet, and then loosely twist the ropes and then shape into a circle joining the ends.
Place 5 of the eggs in between the twists, cover and let rise until doubled.
Take the last egg and beat it with water. Brush over the loaf.
Bake for 30-35 minutes at 350 degrees Fahrenheit. Allow to cool on a rack.
Brush the eggs with the food coloring, and drizzle the bread with the icing.