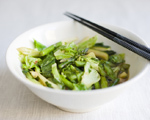 Prep: 6 min
Cook Time: –
Total: 6 min
Serving: 4 Servings
A wonderfully light and vivid stir-fry dish that can be made with early summer vegetables, serve this vegetable medley alone, over rice or with noodles for a complete meal.
Ingredients
1/2 cabbage, cut in thin strips
1 bunch asparagus, trimmed and cleaned and divided in half
1 zucchini, cut into sticks
1 fennel bulb, trimmed, cleaned and cut in thin strips
4 tablespoons olive oil
2 cloves garlic, cut in thin layers
1/2 chili (or chili flakes)
4 tablespoons water
3 tablespoons black bean sauce
2 tablespoons soya sauce
1 bunch chives, roughly chopped
1 bunch cilantro, roughly chopped
Directions
Place a wok over high heat and then add the oil. Once the oil begins to shimmer, add all of the vegetables, the garlic and the chili, and stir-fry the mixture for 2 minutes.
Stir in the water, black bean sauce and soy sauce and bring the mixture to a boil. Cook for 1 minute and then remove the wok from the heat.
Add the chives and the cilantro, toss to combine and then serve immediately.