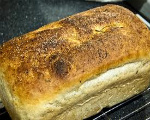 Prep: 3 hr
Cook Time: 40 min
Total: 3 hr 40 min
Serving: 3 loafs
A homemade yeast bread recipe. Yields 3 loafs.
Ingredients
8 cups flour, divided
1 tablespoon sugar
2 yeast cakes
1 (14 ounce) can sweetened condensed milk
1/3 cup canola oil
Melted butter
Directions
Mix together 6 cups flour, sugar and 1 tablespoon salt.
Dissolve the yeast in a small amount of warm water. Mix in the condensed milk, oil and enough warm water to bring the mixture to 4 cups.
Blend in the flour mixture along with the additional 2 cups of flour. Knead for 10 minutes and place in a greased bowl.
Cover and allow to rise for 90 minutes to 2 hours, or until doubled.
Divide into 3 loafs and place in 3 greased pans. Allow to rse for another 40 minutes.
Bake in a preheated 350 degrees Fahrenheit oven for 40 minutes. Brush with melted butter.