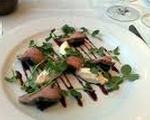 Prep: –
Cook Time: –
Total: –
Serving: Serves 6
Dandelion greens grow wild and are not likely to have been treated with pesticides in wooded areas. They are not only edible, they are a nutritious and convenient addition to this duck and wild blackberry salad.
Wild blackberries are also available in the summer months–just be sure to watch the sticky brambles.
Duck, whether wild or store bought, makes a gourmet campout a more authentic experience than chicken or beef.
Ingredients
4 cups dandelion greens
2 cups baby spinach leaves
3 cups cooked diced duck meat
1/4 cup thinly sliced red onion
2 cups fresh wild blackberries
Balsamic vinaigrette
Directions
Combine all ingredients in a large bowl and serve.