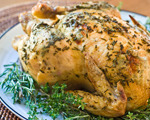 Prep: 2 hr 10 min
Cook Time: –
Total: 2 hr 10 min
Serving: 1 (5-pound) chicken
Rub this heavenly mix of herbs and spices onto a chicken and let sit at room temperature for 25 minutes prior to roasting.
Ingredients
1 (5 pound) whole chicken
6 cloves garlic, crushed
2 onions, quartered
1 tablespoon garlic powder
1 tablespoon onion powder
2 tablespoons paprika
2 tablespoons dried parsley
1 tablespoon dried oregano
1/2 teaspoon cayenne pepper
2 teaspoons rubbed sage
2 teaspoons dried thyme leaves
1 teaspoon ground coriander
1 teaspoon celery seed
1 teaspoon sea salt
1 teaspoon ground black pepper
Directions
Place all of the herbs and seasonings into a bowl and mix well to combine. Rub the chicken on the inside and outside with the rub until completely coated.
Stuff the cavity of the chicken with the onion and the garlic, and then place the chicken into a 9x13-inch baking dish. Let the chicken stand for 25 minutes at room temperature.
In the meantime, preheat your oven to 325 degrees F.
Place the chicken into the oven and cook for about 1 hour and 40 minutes or until a thermometer inserted into the thickest part of the thigh reads 170 degrees.