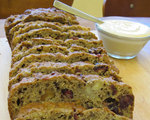 Prep: –
Cook Time: –
Total: –
Serving: Makes 1 loaf
Making a quick bread batter more closely resembles making a cake batter, though there are a few bread-specific things to remember.
This basic recipe is great for experimentation. You can alter the ingredients every time you make it for a fresh flavor experience. Before you get started, here are some suggestions for additions:
Chopped dried apricots and almonds
Dried apple
Dried blueberries
Dried cranberries and cashews
Dried mango and macadamia nuts
Dried cherries and walnuts
Ingredients
1/2 to 1 cup dried fruit and nuts, fruits slightly reconstituted with boiling water or hot fruit juice, and drained
2 cups all purpose flour (you can use a mixture of white and wheat if you'd like)
1 teaspoon baking powder
1 teaspoon baking soda
1/4 teaspoon salt
1 teaspoon ground cinnamon
1 cup buttermilk
1/2 cup honey
1/4 cup canola oil
1 egg
Directions
Preheat the oven to 350 degrees F. Prepare a loaf pan with cooking spray. Combine the flour, baking powder, baking soda, salt and cinnamon in a large bowl. Whisk well. In a separate bowl, combine the buttermilk, honey, canola oil and egg until well blended.
Make a well in the middle of the dry ingredients. Pour in the wet ingredients and bring together with swift but gentle strokes. Try not to over mix. Add the dried fruits and nuts until just combined. Scrape into the loaf pan. Bake about 50 minutes. A cake tester should come out clean. Allow to cool a few minutes before turning out of the pan. Finish cooling on a cooling rack.