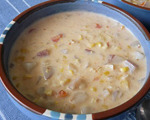 Prep: 10 min
Cook Time: 35 min
Total: 45 min
Serving: Makes 4 to 6 Servings
If you have never used dried corn before then here is your chance to use this clandestine culinary ingredient to make hearty and creamy corn chowder with bacon. Accompany this dish with an American Sauvignon Blanc.
Ingredients
4 medium potatoes (1 pound), scrubbed and diced
2 cups dried corn
1/2 cup chopped tomatoes, drained and diced
6 cups water
1 teaspoon salt
2 bay leaves
2 medium onions, chopped
4 slices fatty bacon, diced
1/4 cup flour
2 cups whole milk or light cream
Directions
Place the potatoes, corn, tomatoes, water, salt and bay leaves into a soup pot and bring to a boil. Once boiling, reduce to medium-low heat and simmer for 20 minutes until the potatoes are soft but not mushy.
In the meantime, place the bacon into a skillet and cook over medium heat for 2 minutes. Add the onions to the pan and cook the mixture for 5 minutes over medium heat, stirring frequently. Add the flour to the pan and cook for 3 minutes before transferring the bacon mixture to the soup pot.
Stir the mixture well to combine, bring back to a simmer and then add the cream. Heat the chowder through but do not allow to boil.