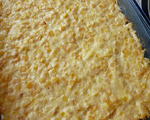 Prep: 30 min
Cook Time: 1 hr 5 min
Total: 1 hr 35 min
Serving: 4 Servings
This dish makes a creamy and comforting side to roasted meats and poultry. If you can't find dried corn, use fresh or frozen, but omit the step of soaking the corn from the recipe.
Ingredients
2 cups dried corn
2 cups water
2 tablespoons cornmeal
2 cups whole milk or light cream
150 grams (6 ounces) old Cheddar cheese, grated
salt and freshly ground black pepper to taste
butter to grease
Directions
Put the corn and the water into a pot over high heat and bring to a boil. Cover the pot and set aside for 20 minutes to soak.
In the meantime, preheat your oven to 350 degrees and grease an 8 x 11-inch casserole dish with butter.
Mix the cornmeal, cream and cheddar in a bowl and then add the corn and a few pinches of salt and pepper. Stir the mixture to combine and then transfer to the prepared dish.
Bake the corn for 1 hour, stirring once after 30 minutes of cooking. Serve hot.