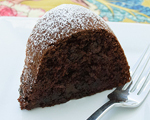 Prep: 25 min
Cook Time: 1 hr
Total: 1 hr 25 min
Serving: Makes one 10-inch bundt cake
No need for frosting on this cake! The double dose of chocolate in this dessert is enough to satisfy even the most fanatic chocoholic!
Ingredients
3 cups flour
1/2 cup unsweetened cocoa
1 tablespoon instant espresso powder
2 teaspoons baking powder
1/2 teaspoon salt
3 sticks butter, softened
3 cups sugar
4 extra large eggs
1 tablespoon vanilla extract
1 cup milk
1 cup semi sweet chocolate chips
1/2 cup raspberry preserves
powdered sugar, to garnish
Directions
Preheat oven to 350 degrees. Grease a 10-inch bundt pan with butter or cooking spray, and lightly flour.
In a medium bowl, combine the flour, cocoa, espresso powder, baking powder and salt with a metal whisk.
In another bowl, cream the butter and sugar until mixture reaches a fluffy texture. Beat in each egg one at a time, then the vanilla and the milk. Mix well.
Add the flour mixture to the butter mixture and stir just until mixed. Fold in the chocolate chips.
Heat the raspberry preserves for 15 seconds in the microwave. Pour half of the batter into the prepared pan, and spread the preserves over the batter. Pour the rest of the batter in the pan.
Put pan in the oven and bake for 1 hour. Check doneness by placing a toothpick in the center of the cake; if the cake is done the toothpick will come out clean.
Take out cake from oven and cool for at least 20 minutes. Flip on serving plate and dust with powdered sugar if desired.