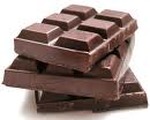 Prep: 10 min
Cook Time: 20 min
Total: 30 min
Serving: 12
Double Chip Bar Cookies are made with both chocolate and butterscotch chips.
Ingredients
1 cup light corn syrup
1 cup sugar
1 cup peanut butter
6 cups Special K cereal
1, 6 ounce package chocolate chips
1, 6 ounce package butterscotch chips
Directions
Cook corn syrup and sugar over low heat, stirring constantly, until mixture begins to bubble around edges. Remove from heat and stir until sugar has dissolved. Add peanut butter and cereal. Pat in a 9 by 13 inch baking pan.
Over hot water, in a double boiler, melt together butterscotch and chocolate chips. Spread over cereal bars. Cool and cut into squares.