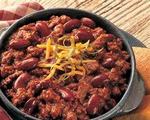 Prep: 30 min
Cook Time: 2 hr 45 min
Total: 3 hr 15 min
Serving: 8
Dottie's Firehouse Chili has the smoky flavor of bacon that makes it special.
Ingredients
6 slices bacon
10 ounces hot Italian sausage
10 ounces ground beef
1 large onion, chopped
1 green pepper, chopped
2 garlic cloves, minced
1 jalapeno pepper, seeded and chopped
1 cup red wine
1/2 cup Worcestershire sauce
1 teaspoon dry mustard
1 teaspoon celery seeds
1 1/2 teaspoons chili powder
salt and pepper to taste
1 large can tomatoes
2 cans beans, kidney, black or pinto
Directions
Brown bacon in a 4 1/2 quart Dutch oven. Crumble and set aside. Drain some of the bacon fat and brown sausage. Set aside. Fry ground beef, set aside and drain fat. Cook onions, pepper, garlic and jalapeno at low heat 3 minutes.
Stir in wine and Worcestershire sauce and simmer uncovered for 10 minutes. Stir in mustard, celery seed, chili powder, salt and pepper.
Add tomatoes, and the meats and cook for 45 minutes. Add beans and heat to boiling. Reduce heat and cover. Simmer for 1 hour.