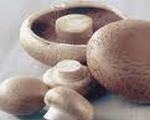 Prep: 15 min
Cook Time: 25 min
Total: 40 min
Serving: 12
Flavored with thyme and turmeric, these stuffed mushrooms make a great party appetizer or the perfect side dish with any meat or poultry.
Ingredients
1 pound medium mushrooms
1 small onion, chopped
1/4 cup green bell pepper, chopped
4 tablespoons margarine
1-1/2 cups soft breadcrumbs
1/2 teaspoon salt
1/2 teaspoon thyme
1/4 teaspoon each turmeric, black pepper
Directions
Cut stems from the mushrooms. Finely chop enough stems to measure 1/3 cup. Saute mushroom stems, onion and green pepper in a skillet with three tablespoons margarine until tender -- about five minutes. Remove from heat.
Stir in bread crumbs, salt, thyme, turmeric and pepper. Melt one tablespoon margarine in a shallow baking dish. Fill mushroom caps with stuffing mixture.
Place mushrooms, filled-side up, in a baking dish. Bake at 350 degrees F for 15 minutes. Change oven to "broil" setting. Broil mushrooms three to four inches from heat source for two minutes. Serve hot.