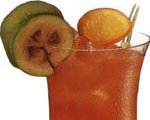 Prep: 5 min
Cook Time: –
Total: 5 min
Serving: 1 Serving
This recipe is from the famous 'Beachbum Berry's Intoxica!' cocktail book. Its fresh and flavorful blend is unbelievably delicious yet just as potent.
Ingredients
1 ounce gold Puerto Rican rum
1 ounce white Puerto Rican rum
1 ounce 151 Demerara rum
1 ounce unsweetened pineapple juice
1 ounce lemon juice
1 ounce lime juice
1 ounce passion fruit syrup
1 teaspoon brown sugar
dash Angostura bitters
sprig of mint to garnish
Directions
Place the sugar and the lemon juice into a cocktail shaker and mix until the sugar has completely dissolved.
Place the rest of the ingredients into a cocktail shaker filled with crushed ice.
Vigorously shake the mixture for 35 seconds to combine and then pour into a cocktail glass. Garnish with a sprig of mint and serve immediately.