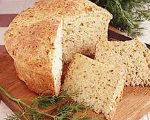 Prep: 30 min
Cook Time: 40 min
Total: 1 hr 10 min
Serving: 1 loaf
Ingredients
1 package yeast dissolved in 1/4 cup water
2 1/4-2 1/2 cups flour
1 cup lukewarm cottage cheese
2 tablespoons sugar
1 tablespoon instant onion
1 tablespoon butter
2 tablespoons dill seed
1 teaspoon salt
1/4 teaspoon baking soda
1 egg
Directions
Preheat oven to 350 degrees Fahrenheit
Mix together everything except the yeast mix and flour.
Stir in the yeast mixture, mix well.
Mix in the flour. Allow to rise.
Press into a loaf pan or a 1 1/2 or 2 quart casserole dish. Allow to rise again.
Bake for 40 minutes. Remove from the pan and brush the top with butter and sprinkle with salt.