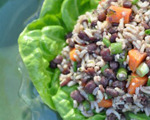 Prep: 10 min
Cook Time: 50 min
Total: 1 hr
Serving: 6 Servings
Adzuki Beans are small, red beans that are most typically used in Japanese cooking. Although a canned version of the beans is available, try making this dish with dry beans instead to exclude the excess sodium.
Ingredients
4 cups cooked long grain brown rice
3 cups cooked adzuki beans
4 large carrots, diced
4 green onions, sliced into rounds
small handful of fresh dill, finely chopped
butterhead lettuce
1/4 cup toasted sunflower seeds
4 tablespoons extra virgin olive oil
3 tablespoons apple cider vinegar
3 teaspoons fresh honey
Sea salt and freshly ground pepper
1 large garlic clove, crushed
Directions
Cook the brown rice and the adzuki bens according to package directions, and then set both aside to cool.
In the meantime, combine the olive oil, vinegar, honey, garlic and a few pinches of salt and pepper in a small bowl, and whisk vigorously until blended.
Place the cooled rice and beans into a salad bowl, along with the carrots, green onions, dill and sunflower seeds. Pour the dressing over the mixture and then toss to coat. Season with additional salt and pepper and then serve the salad topped onto leaves of butterhead lettuce.