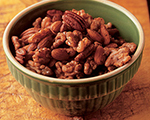 Prep: 15 min
Cook Time: 30 min
Total: 45 min
Serving: 18 (1/4-cup) servings
Why purchase the store bought variety when you can make your own delicious homemade version.
Ingredients
3 tablespoons butter, melted
1 tablespoon Worcestershire sauce
1/2 teaspoon salt
1/2 teaspoon ground red pepper
1/4 teaspoon ground cumin
1 pound (4-1/2 cups) pecan halves, walnut halves, whole almonds
Directions
Preheat the oven to 300 degrees.
Place the butter, Worcestershire sauce, salt, ground red pepper and cumin in medium bowl and whisk to mix.
Put the nuts in the bowl and toss until coated with the butter mixture.
Spread the nuts out onto a baking sheet and place in the oven for 30 minutes, stirring every 10 minutes.
Remove the nuts, allow to cool and serve.