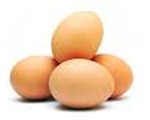 Prep: 3 hr 15 min
Cook Time: 1 hr 10 min
Total: 4 hr 25 min
Serving: 12
Serve a crowd with Deviled Egg Casserole, an old fashioned homey favorite.
Ingredients
2 dozen hard boiled eggs
1/2 cup mayonaise
1 teaspoon dry mustard
3 cups ham, cubed
2, 4 ounce cans mushrooms, drained
Sauce: 2/3 cup margarine
1 1/2 teaspoon salt
2/3 cup flour
3/4 teaspoon pepper
6 cups milk
1 teaspoon curry powder
Topping: 2 cups herb stuffing
1 stick margarine, melted
2 cups Cheddar cheese, grated
Directions
Cut eggs oblong and remove yolks; mash yolks with mayonaise, dry mustard and salt to taste. Stuff eggs and put in bottom of two 9 by 13 inch baking pans.
Prepare white sauce by melting margarine and blending in flour until smooth. Add milk and seasonings; cook, stirring constantly, until sauce thickens. Add ham and mushrooms. Pour sauce over egg and refrigerate 3 hours.
Prepare topping by mix stuffing, cheese and margarine together. Put on top of casserole. Bake at 375 degrees F for 45 minutes.