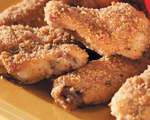 Prep: 35 min
Cook Time: 25 min
Total: 1 hr
Serving: 24 pieces
These sweet and savory wings are a great hot appetizer for a casual party; they can also be served for dinner, with a green salad, much to your kids' delight.
Ingredients
2 tablespoons olive oil
1-1/2 pounds chicken wings with wing tips removed and separated into 2 pieces
1/2 cup honey
3 tablespoons whole-grain mustard
2 tablespoons Dijon mustard
1 tablespoon cider vinegar
2/3 cup dry unseasoned breadcrumbs
1 teaspoon dried thyme
1/2 teaspoon red pepper
Directions
Preheat the oven to 400 degrees and grease a large baking pan with the 2 tablespoons of olive oil.
Place the honey, mustards and vinegar in a large bowl and mix with a whisk to blend.
In a large shallow bowl, combine the breadcrumbs, thyme and red pepper.
Place the wings in the mustard mixture and coat thoroughly, then dredge one-by-one in the breadcrumbs, coating completely.
Place the wings on the prepared baking pan close together but not overlapping. Bake the wings for 25 minutes, turning once halfway through the cooking time. Serve immediately.