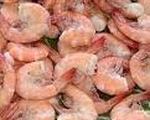 Prep: 30 min
Cook Time: 30 min
Total: 1 hr
Serving: 8-10
Deluxe Seafood Spread is served hot and will be difficult to resist. Serve with hearty whole grain crackers and pita chips.
Ingredients
12 ounces cream cheese, softened
1/3 cup green pepper, minced
1/3 cup green onion, chopped
2 tablespoons lemon juice, freshly squeezed
1/2 teaspoon Worcestershire sauce
1/2 teaspoon salt
dash of garlic powder
1, 6 ounce can snow crab meat, drained, shell and cartilage removed
1, 4 1/2 ounce can small shrimp, drained and rinsed
1, 6 1/2 ounce can minced clams, drained
1/4 cup slivered almonds
Directions
In a medium bowl blend cream cheese, green pepper, onion, lemon juice, Worcestershire sauce, salt and garlic powder.
Stir in crab, shrimp and clams. Turn mixture into a 1 quart casserole or oven proof dish. Sprinkle with almonds.
Bake at 350 degrees F for 30 minutes or until bubbly around the edges.