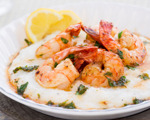 Prep: –
Cook Time: –
Total: –
Serving: 4-6 People
Seafood night can extend over into seafood morning or brunch. This shrimp and grits dish is so delicious and creamy, you might find that you want it three times a day! By cooking the grits in both chicken broth and heavy cream, the rich flavor is infused into the grits, making every bite a fantastic treat.
Ingredients
2-1/2 cups reduced sodium chicken broth
1 cup heavy cream
1 cup grits
1/2 cup shredded sharp cheddar cheese
2 tablespoons butter
1/2 white onion, finely diced
2 cloves of garlic, chopped
1 pound shrimp, peeled and deveined
Dash of hot sauce (optional and amount to your liking)
1/4 cup white wine
Green onions, chopped for topping
Directions
In a medium-sized pot, bring the chicken broth and heavy cream to a boil.
Slowly add the grits, whisking as you add them, then reduce the heat to medium-low and cover the pot. Cook and continue to stir and keep an eye on your grits so they do not stick to the bottom, about 20 minutes.
If the grits get too thick, add more liquid to the water, broth or heavy cream, continuing to stir. Add the cheese shortly before serving and stir to melt the cheese.
For the shrimp, sauté the onion and garlic in the butter for about 2 to 3 minutes.
Add the shrimp and cook them until they turn pink. This should not take very long at all, about 3 to 5 minutes.
Add the hot sauce and white wine after about 2 minutes of cooking the shrimp and stir to combine the flavors.
To serve, either on a plate or in a pretty martini glass, spoon the grits onto the bottom, then spoon the shrimp mixture on top. Add more of the sauce, then sprinkle the green onions on top and enjoy!