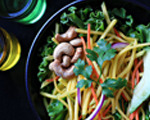 Prep: 15 min
Cook Time: –
Total: 15 min
Serving: 2 Servings
Green mangos are young mangos that are pale green in color and slightly firmer and less sweet than their ripe counterparts. Enjoy them combined with carrots, onions, avocado and cashews in this delicious salad.
Ingredients
2 large green mangos, peeled and finely julienned
1 carrot, finely julienned
1/2 red onion, finely julienned
1 large avocado, cubed
Lettuce to garnish
1/2 cup roasted, salted cashews
1 garlic clove, minced
1/4 cup lime juice
2 tablespoons orange juice
2 tablespoons fish sauce
2 teaspoons seasoned rice vinegar
2 tablespoons brown sugar
1/2 teaspoon Sriracha chili sauce
Directions
Place the mango, carrot, onion, avocado and cashews in a bowl.
Put the garlic, lime juice, orange juice, fish sauce, rice vinegar, brown sugar and chili sauce into a bowl and whisk vigorously until the dressing is completely blended.