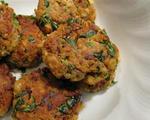 Prep: 15 min
Cook Time: 10 min
Total: 25 min
Serving: 6 Servings
Craving a delicious falafel? Try this falafel recipe tonight. Serve on pita bread.
Ingredients
1 (19 ounce) can garbanzo beans, rinsed and drained
1 small onion, finely chopped
2 cloves garlic, minced
1 1/2 tablespoons chopped fresh cilantro
1 teaspoon dried parsley
2 teaspoons ground cumin
1 cup fine dry bread crumbs
1/2 teaspoon baking powder
3/4 teaspoon salt
1/4 teaspoon cracked black peppercorns
1 quart vegetable oil for frying
Directions
In a large bowl, mash the garbanzo beans. Then stir in the onion, garlic, cilantro, parsley, cumin, baking powder, bread crumbs, salt and pepper.
Shape the mixture into 1 1/2 inch balls. You should get 18 to 24. If the mixture does not hold together, add a little water.
Heat the oil in a deep fryer to 375 F. Carefully drop the balls into the oil until brown. Add to pita bread and enjoy!