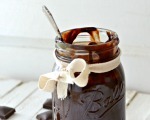 Prep: 5 min
Cook Time: 10 min
Total: 15 min
Serving: Yields about 2-1/2 cups
If you're looking for something a little indulgent for dessert, drizzle some of this incredibly decadent hot fudge on your favorite ice cream, cake or cookies! This sauce is not only the most delicious thing you'll make in a while, it's easy as pie! In just 10 minutes and with a handful of ingredients, you can whip up a mouth-watering batch of your own! Just be careful, it'll be nearly impossible not to just eat this with a spoon!
Ingredients
2/3 cup heavy cream
1/2 cup white sugar
2-1/2 tablespoons water
1/3 cup brown sugar
1/4 cup unsweetened cocoa powder
6 ounces dark chocolate
3 tablespoons unsalted butter
1 teaspoon vanilla
Dash of salt
Directions
In a medium saucepan, heat the heavy cream, sugar, water, brown sugar, unsweetened cocoa powder and 3 ounces of dark chocolate. Bring the mixture to a boil. Reduce the heat and let it simmer for 3 minutes.
Remove the mixture from the heat and add in the butter, the remaining chocolate and vanilla. Whisk for about a minute and add some salt. Pour the mixture into a Mason jar and chill before serving.