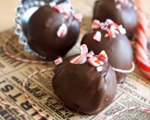 Prep: 20 min
Cook Time: 1 hr 20 min
Total: 1 hr 40 min
Serving: 6-8 People
Can't choose between chocolate or cake? It's easy to go overboard on sweets and, before you know it, you're passed out in the living room with chocolate everywhere. To avoid this literal death by chocolate, we have a great hybrid of chocolate cake and chocolate candies. Crunchy candy cane bits top the chocolate cake truffles, adding a refreshing, crunchy goodness to the moist cake.
Ingredients
1 box Devil's Food cake mix
1 can chocolate frosting
8 candy canes
24 ounces dark chocolate
Salt
Directions
Prepare a 9x13-inch sheet pan cake and bake Devil's Food cake according to the directions. Cool on racks.
Crumble the cooled cake in a large mixing bowl and mix in 3/4 can of the chocolate frosting along with a pinch of salt. You can use either a large spoon or your hands.
Crush six candy canes in a plastic sandwich bag with a rolling pin and sprinkle them over the cake mixture. Mix thoroughly and add more frosting as needed to reach the desired moistness -- you'll want the cake truffle to hold its shape when rolled.
Roll the mixture into 1-1/4-inch balls and place them on a cookie sheet to be chilled in the fridge. Chill for half an hour.
While the cake truffles are chilling, crush the remaining two candy canes.
Next, temper the chocolate. Heat up 3/4 of the chocolate over a double boiler until it reaches 110-115 degrees F, then remove it from the heat and add the rest of the chocolate little by little to cool it to 82-84 degrees. Then bring it slowly back up to between 88-90 degrees before using. This lengthy yet important process ensures the chocolate to have a shiny appearance and perfect texture. If you are in a hurry, candy melts can be substituted, but it's worth the work for good chocolate!
When the truffles are chilled and the chocolate tempered, use a fork and carefully lower a truffle into the chocolate to coat. Rest the coated truffle on a parchment paper covered cookie sheet and sprinkle with a little crushed candy cane. Repeat until all the truffles are covered. Dig in after the chocolate sets and hardens. Enjoy!