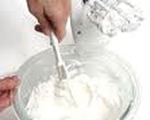 Prep: 45 min
Cook Time: 25 min
Total: 1 hr 10 min
Serving: 6
Deborah's Marshmallows are homemade and a family treat.
Ingredients
1 cup sugar
1 tablespoon corn syrup
1 tablespoon unflavored gelatin
confectioners' sugar
Directions
Combine first 2 ingredients and 1/2 cup water in saucepan. Cook to hard-ball stage, 260 degrees on a candy thermometer.
Soften gelatin in 1/4 cup cold water. Add to syrup. Cool until thick. Beat until soft peaks form. Pour into an 8 x 8-inch pan. Sprinkle with confectioners' sugar.
Let stand until set. Cut into 2-inch squares. Roll in confectioners' sugar.