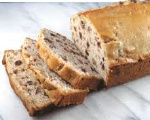 Prep: 15 min
Cook Time: 1 hr 10 min
Total: 1 hr 25 min
Serving: 2 loaves
Ingredients
1 cup boiling water
1 1/2 teaspoons baking soda
1 cup raisins
1 cup chopped dates
2 eggs
1 cup sugar
1 teaspoon vanilla
2 cups flour
1 cup chopped walnuts
Directions
Preheat oven to 325 degrees Fahrenheit. Grease two 7x3 inch loaf pans.
Place the raisins and dates in a small bowl, add the boiling water and soda. Set aside to cool.
In another bowl beat together the eggs, sugar and vanilla until well blended. Mix in the flour and fruit until just blended. Stir in nuts.
Pour between the two pans. Bake for 60-70 minutes, or until toothpick inserted in center comes out clean.
Cool in pan for 15 minutes. Remove from pan and allow to cool completely.
Store overnight in an airtight container before serving.