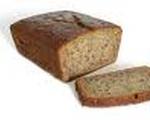 Prep: 10 min
Cook Time: 1 hr 30 min
Total: 1 hr 40 min
Serving: 10-12
This hearty Date Nut Bread tastes great with a generous spread of cream cheese.
Ingredients
2 cups sugar
1/2 teaspoon salt
1 tablespoon melted butter
1 1/2 cups boiling water
1 cup chopped walnuts or pecans
1 egg
2 2/3 cups flour
2 teaspoons baking soda
1 tablespoon vanilla
1 package dates
Directions
Cut the dates into small pieces and the pour boiling water over them. Let sit for 5 minutes.
Cream sugar and butter and add the egg. Drain water from the dates.
Add the baking soda, salt and flour to the butter mixture. Add the dates, nuts and vanilla. Mix well.
Pour into a foil lined 9 by 13 inch baking pan. Bake at 300 degrees F for 1 1/2 hours.