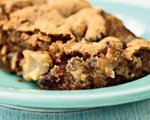 Prep: 10 min
Cook Time: 16 min
Total: 26 min
Serving: Makes 24 2-1/2x2-inch bars
These date bars have it all including, oats, spices, dates and pecans. Enjoy them for dessert or even as a snack.
Ingredients
1/2 cup old-fashioned rolled oats
3 tablespoons all-purpose flour
1/4 teaspoon baking powder
Pinch of salt
3/4 teaspoon ground cinnamon
1/4 teaspoon ground allspice
Pinch of ground cloves
1/3 cup unsalted butter, softened
1/3 cup packed brown sugar
1 large egg yolk
4-1/2 tablespoons milk
3/4 cup chopped dates
3/4 cup chopped pecans
Grated zest and juice of 1/2 lemon
Directions
Preheat your oven to 325 degrees and grease a 13x9-inch baking pan lined with aluminum foil.
Place the oats, flour, baking powder, salt, cinnamon, allspice and cloves into a bowl and whisk together to combine.
In another bowl, beat together the butter with the sugar until blended then add the egg yolk, milk, dates, pecans, lemon zest and juice, and continue to beat until combined.
Add the flour mixture, stir to blend and then transfer the mixture to the prepared pan. Place the pan in the oven for 16 minutes, or until the dough begins to pull away from the sides of the pan.
Allow the date mixture to cool before cutting into bars and serving.