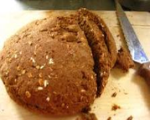 Prep: 3 hr
Cook Time: 55 min
Total: 3 hr 55 min
Serving: 2 loaves
Ingredients
2 cups scalded milk
2 tablespoons sugar
1 package dry yeast
4 cups rye flour
2 tablespoons caraway seeds (optional)
2 tablespoons butter
1 teaspoon salt
1/2 cup lukewarm water
2 1/2 cups whole wheat flour
Directions
Preheat oven to 450 degrees Fahrenheit.
In a large bowl, pour the scalded milk over the butter, sugar and salt. Stir and cool.
Dissolve the yeast in the lukewarm water.
Combine the milk mixture, yeast and 3 cups of the rye flour. Beat well.
Beat in the remaining flour.
Allow it to rise, until it has doubled, in a warm place.
On a well floured board knead the whole wheat flour and caraway seeds into the rye dough. Knead until smooth and elastic.
Divide in half. Shape into round or oblong loaves. Place in greased pans, cover and once again allow to rise until double.
Bake for 15 minutes, reduce heat to 350 degrees Fahrenheit and bake for 35-40 more minutes.