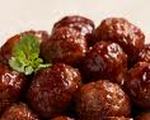 Prep: 15 min
Cook Time: 25 min
Total: 40 min
Serving: 6
Serve Danish Meatballs with mounds of mashed potatoes.
Ingredients
1 pound ground beef
1/2 pound ground pork
1/2 cup dried bread crumbs
1 tablespoon grated onion
1 egg
salt
2 tablespoons butter
2 tablespoons flour
1/4 teaspoon pepper
1 cup milk
1 cup water
Directions
In large bowl, mix beef and pork, bread crumbs, onion, egg and 1 teaspoon salt. Shape mixture into 1 1/2 inch meatballs.
In 10 inch skillet over medium-high heat, in hot butter, cook meatballs until browned on all sides, removing meatballs to a bowl as they brown. Pour off all but 2 tablespoons dripping from skillet.
Into drippings in skillet over medium heat, stir flour, pepper and 1 teaspoon salt; cook 1 minute. Gradually stir in water and milk; cook until thickened, stirring. Return meatballs to skillet; over high heat, heat to boiling. Reduce heat to low; cover; simmer 10 minutes.