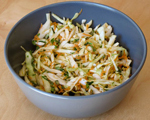 Prep: 2 hr
Cook Time: –
Total: 2 hr
Serving: 4 Servings
The thought of summer always conjures up images of barbeques, sweet corn, burgers and of course Coleslaw. This crunchy side dish takes a traditional recipe and spices it up with a few tasty twists.
Ingredients
1/2 head cabbage small
1 each carrot small
1 tablespoon fresh parsley finely chopped
2 each scallions finely chopped
1 each celery seed sprinkling, light
2 pinches of salt and freshly ground pepper
1 tablespoon granulated sugar
2 tablespoons shelled sunflower seeds, lightly toasted
3 tablespoons golden raisins
1-1/2 tablespoons cider vinegar
3 tablespoons mayonnaise
3 tablespoons Greek-style yogurt
2 tablespoons half and half
Directions
Peel off the outer leaves of the cabbage and remove the core, and discard. Shred the cabbage with a knife and place in a large bowl.
Peel the carrots and grate into pieces. Add to the cabbage along with the celery seed, salt, black pepper, granulated sugar, sunflower seeds and raisins; toss all of the ingredients to combine.
Pour in the vinegar, and add the mayonnaise, Greek yogurt and half-and-half. Toss the Coleslaw with two forks until coated and place in refrigerator for at least 2 hours before serving.