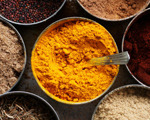 Prep: 1 hr 10 min
Cook Time: –
Total: 1 hr 10 min
Serving: 2 Servings
Infuse your salads with all of the wonderful flavors of curry by using this delicious vinaigrette that is especially suitable for grain-based salads.
Ingredients
2-3 large carrots
1/4 cup raisins
1/2 cup raw cashew halves
2 tablespoons olive oil
2 tablespoons apple cider
1 tablespoon apple cider vinegar
1/2 teaspoon curry powder
1/2 teaspoon freshly grated ginger
Dash of cinnamon
salt and fresh black pepper
Directions
Slice the carrots into long ribbons with a vegetable peeler and then place into a bowl with the raisins and the cashews.
In a separate bowl, combine the olive oil, vinegar, curry powder, ginger, and cinnamon by whisking vigorously. Add some salt and pepper to taste and then pour the dressing over the salad.
Gently toss the salad to combine and then cover and place in the refrigerator for 1 hour prior to serving.