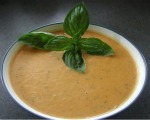 Prep: 15 min
Cook Time: 60 min
Total: 1 hr 15 min
Serving: Serves 6 people
A lovely soup for the fall season and beyond, Curried Zucchini Soup is perfect paired with fish and served with artesian bread.
Ingredients
1 medium onion, sliced
1 tablespoon of powdered ginger
2 or more tablespoons of curry powder
Pinch of saffron
1/4 teaspoon of chili powder
2 large potatoes, peeled and sliced
7 cups of water
1-1/2 pounds of zucchini, sliced
1 teaspoon of dried basil
1/2 cup of low-fat yogurt
Directions
Over medium heat in a large pot, cook the onion in 1/4 cup of water for about 3 minutes. Add the ginger, curry, saffron, chili powder and cook for another 3 minutes.
Add the potatoes to the onion and seasoning mixture and stir well. Add the water. Cover and simmer for about 30 minutes.
Add the zucchini and basil. Keep the pot covered and cook for an additional 20 minutes.
Puree the soup and strain it. Add the yogurt and serve.