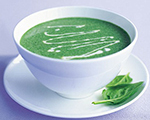 Prep: 15 min
Cook Time: 22 min
Total: 37 min
Serving: 8
Enjoy this smooth spinach soup with undertones of curry, potato and green onion.
Ingredients
1 large potato, peeled and chopped
1/2 cup sliced green onions
6 tablespoons butter
1 pound fresh spinach, washed and stems trimmed (12 cups)
1/3 cup all-purpose flour
2 teaspoons curry powder
4 cups chicken broth
1 tablespoon lemon juice
1 8-ounce carton dairy sour cream plus 1 tablespoon for garnish
Directions
Place 2 tablespoons of the butter in a large sauce pan and melt over medium heat.
Add the potato and onion, and sauté for 10 minutes.
Stir in a handful of spinach and continue to sauté the mixture until spinach becomes wilted and dark green. Continue adding handfuls of spinach and cooking in the same manner until all of the spinach has been added.
Place the spinach mixture into a food processor and process until achieving a smooth and creamy texture.
Place the remaining butter in the saucepan over medium heat and add in the flour and curry powder. Cook the mixture for 2 minutes and then slowly add the broth, whisking continuously to combine.
Add the spinach mixture back to the pan and stir in the lemon juice. Cook the mixture for 3 minutes.
In a medium bowl, mix together the sour cream with 1 cup of the soup, and then add the sour cream mixture to the saucepan. Stir to combine and cook until just heated through.
Ladle the soup into bowls and add a bit of sour cream to garnish.